Ubisoft revealed that the first DLC for Assassin's Creed Odyssey, named Legacy of the First Blade, will be arriving on December 4th.
Despite the fact that Assassin's Creed Odyssey is already a beast, Ubisoft has important plans for the game and has planned a few DLC releases. The first one in the series is called Legacy of the First Blade, and it's all about the first Assassin to use the famous blade.
To be fair, Ubisoft is tripping a little bit on its own lore. The first instances where we saw the blade in action was during the first Assassin's Creed game. People were wearing it on the inside of the hand, and there was a big ceremony when the would-be assassin would lose the ring finger to accommodate the blade.
In Assassin's Creed 2, the blade was fixed so that the main character is no longer forced to lose a finger. Now, with the new DLC for Assassin's Creed Odyssey, we see that the blade if on the outside. I really hope that there is a good explanation for this small incongruence.
Episodic content
Ubisoft plans to release the Legacy of the First Blade in an episodic format, which has rarely worked in the past. But it might just work this game because the main story is already pretty big. Of course, you can choose to wait and play the entire DLC from start to end.
"Throughout Hunted and the following two episodes, players will continue their grand Greek Odyssey to encounter Darius, the legend who was first to wield the Assassin's Hidden Blade.
As the story of Hunted unfolds, players will discover whether Darius is friend or foe, while meeting new characters, engaging in gripping naval combat, fighting new and powerful enemies, and uncovering revelations about the Assassin's Creed universe."
The second episode Shadow Heritage, and the third episode, Bloodline, will be released in early 2019 for PC, Xbox One, and PlayStation 4.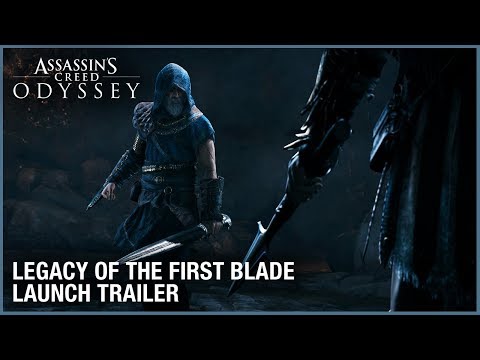 Play Video